Expectations. Exceeded.
Give them wow-factor
Delight your customers with a unique upgrade
The Savaria Vuelift features an integrated glass or acrylic hoistway, with matching cab and landing doors. This all-in-one design gives you incredible design flexibility when it comes to floorplan placement – put it in the middle of the room, through the floor, attached to a mezzanine or centered in a spiral staircase. Building a residence or vacation home with a view? This is the ultimate elevator to take it all in.
Rethink what a home elevator can be
Elevate the homes you design and build. Discover the Savaria® Vuelift® panoramic glass home elevator with our NEW Interactive Design Inspiration Guide
6 Models
+

Signature Style

Live outside the box and complement your design. Whether your customer prefers the jewel-cut style of the Vuelift Octagonal, or the panoramic 360 Vuelift Round, you can customize with number of stops, entrances and frame color. Choose from 6 base models, with available capacity up to 950 lb (432 kg).
NEW!

Vuelift Mini

With a 50″ footprint, our newest round model fits into tighter spaces without compromising quality. Your customers can step into luxury at an even more affordable price too. With its simpler installation, the total cost of the Vuelift Mini is comparable to a traditional luxury home elevator.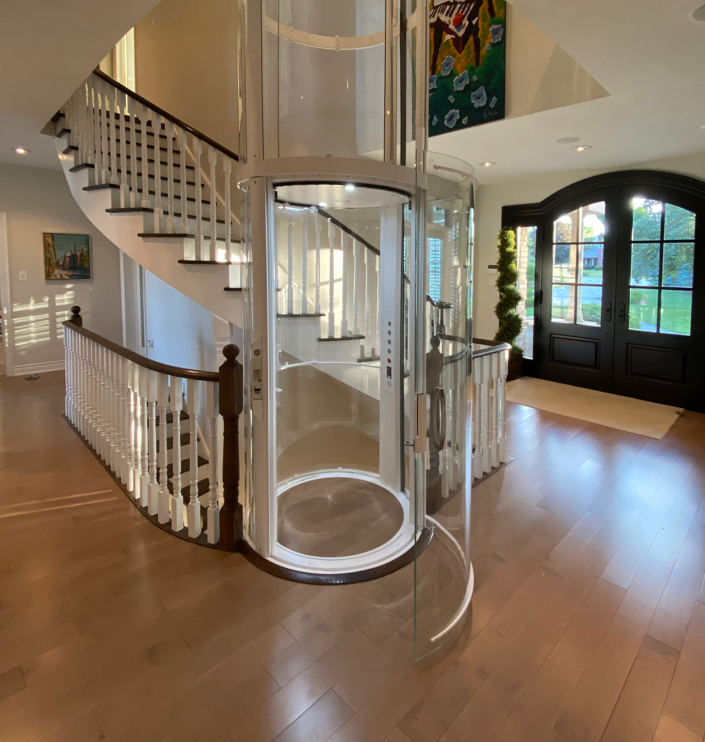 Proven Performance
The Vuelift uses reliable and quiet winding drum drive technology and ultra-clear UV-resistant glass or clear acrylic. With no need to build a hoistway, Vuelift installation can be faster and easier than traditional home elevator installs. Manufactured in North America by industry leader Savaria, the Vuelift fully meets ASME A17.1/CSA B44 code. Vuelift ticks all the boxes for style, quality and safety.
Residential Elevator Project of
the Year, Elevator World 2018